Let me say that I really didn't want to create this website – I did not want this issue involving my Toyota Tacoma to reach this point. It's frustrating. It's time consuming. It may not get me anywhere. If anything,  hopefully it will at least let you know why Toyota Tacoma owners should fear the frame recall. Now – if you want the long story, keep reading.
<< Read the Abbreviated Version >>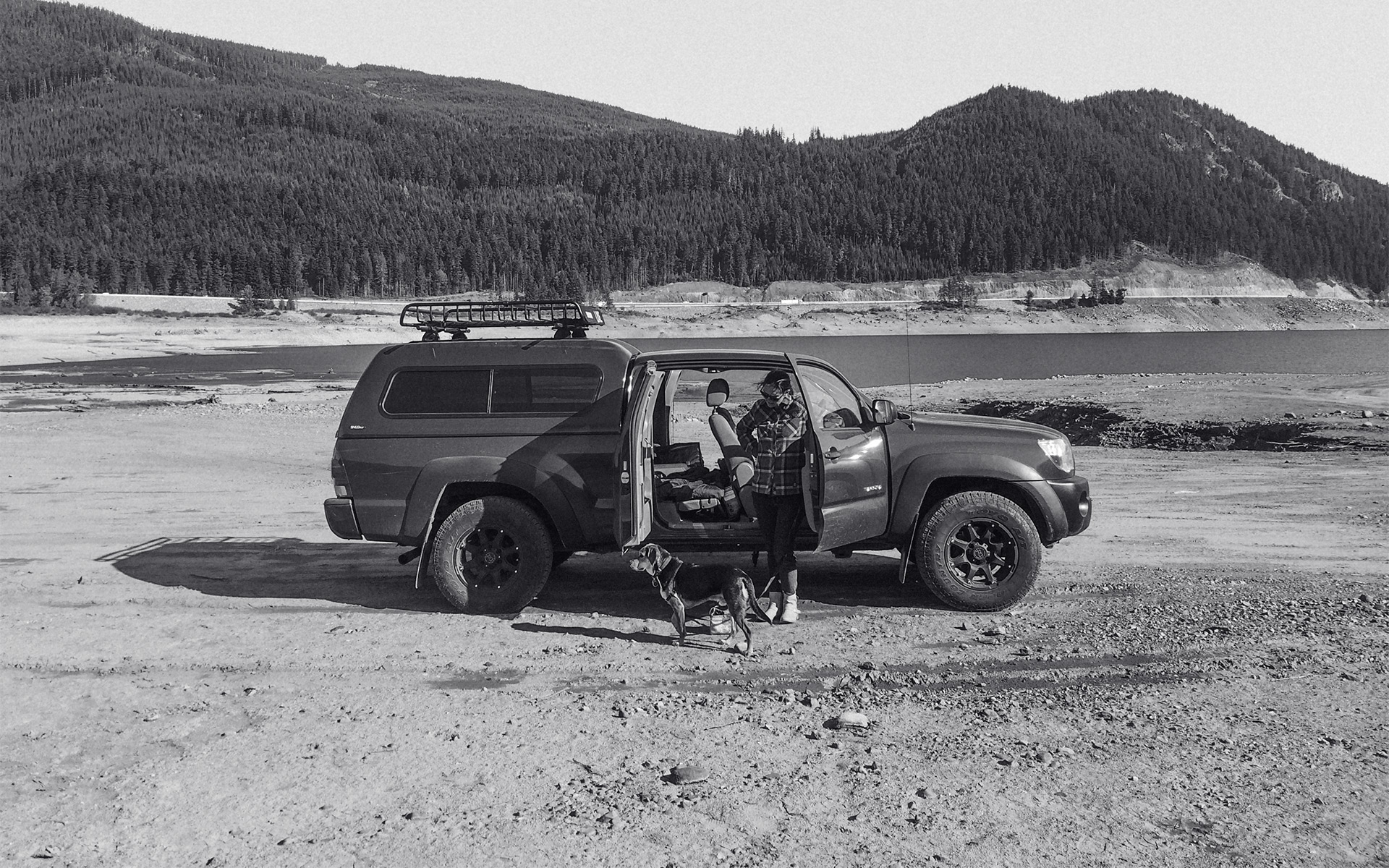 Let me introduce you to the truck in question: It's a 2005 Toyota Tacoma. I've had it since November of '04 and have been driving it ever since. It's been awesome. It's taken me a bunch of great places with great friends. It's been with me for moves from Massachusetts to Vermont – back to Massachusetts and finally here to the Pacific Northwest in Washington State. Winter snow, Summer rain and everything in between for 182 thousand miles.
Sadly, this past winter in Seattle, the truck began to have some problems.
A knock or "clunk" began to develop in the rear of the vehicle. Subtle at first – just enough for you to wonder if you may have run over a piece of metal in the road inadvertently. As time went on, the sound became consistent. Louder. Any bump and there was the "clunk."
So I brought the Toyota Tacoma in for service at a local mechanic. Maybe it was a quick fix – maybe I'd be in and out of there in no time.
No such luck. I was informed by the station rep that they couldn't even lift the truck for inspection because of the condition of the frame.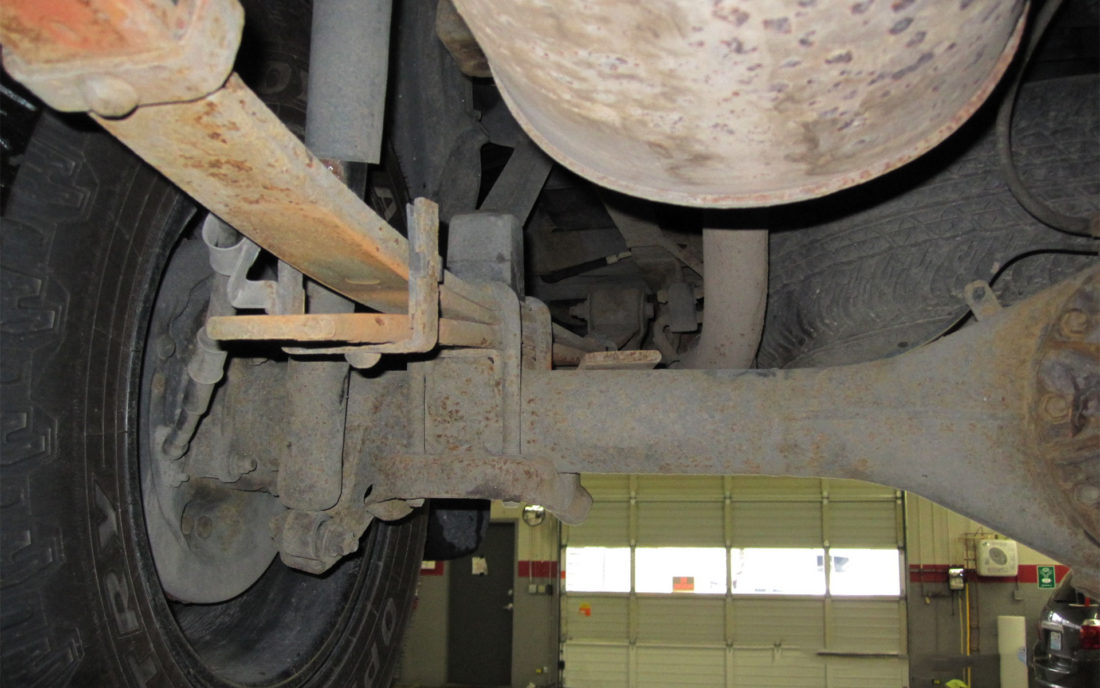 The noise, it turned out, was a fractured leaf spring in the rear suspension (coincidentally covered by another recall).
Ugh.
What I thought would be a quick diagnosis, maybe a small repair turned out to be the start of a headache that hasn't let up since April of last year.
Initially – I thought this was it. There was no way I was going to be able to fix a frame. The truck is junk. It's scrap.
Somewhere in the moment of panic, probably around the 2nd or 3rd stage of grief, the rep informed me that my truck was part of a recall.
Recall. A fix! Hope. I've got another 100K left in the truck at least! And so the gloom of thoughts of having to scrap the truck started dissipating. I made an appointment as soon as I could to get everything checked out.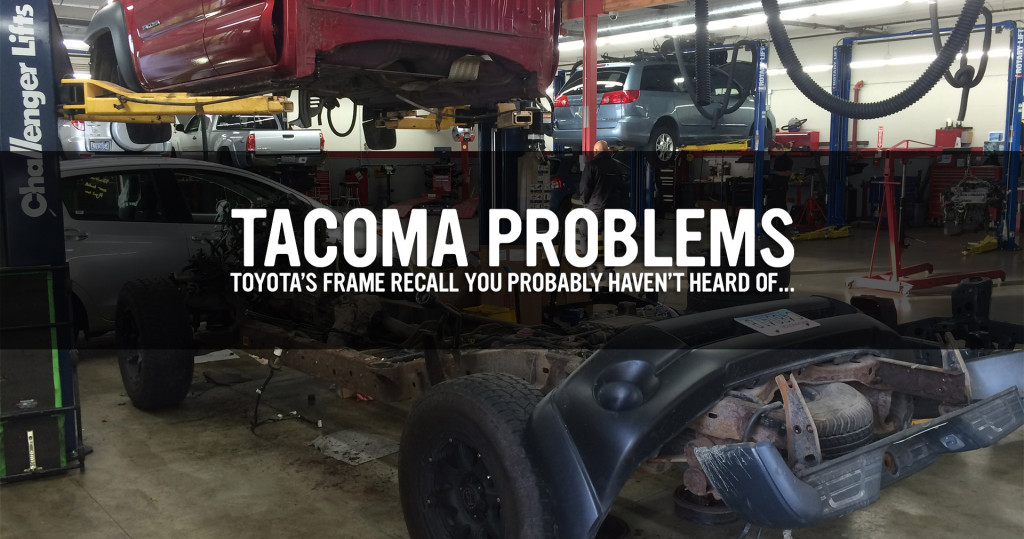 Paraphrased details of "Limited Service Campaign:"
Limited Service Campaign E0D (Specific 20 Cold Climate States Only) – Certain 2005-2008 Model Year Toyota Tacoma Vehicles – Corrosion-Resistant Compound Application to the Vehicle's Frame
This is a Limited Service Campaign (LSC). Please contact an authorized Toyota Dealer and make an appointment to have your vehicle inspected and the CRC application completed before 3/31/2016. This campaign covers vehicles currently registered in CT DE IL IN KY MA MD ME MI MN NH NJ NY OH PA RI VA VT WA WI WV & D.C. This LSC will be launched in Phases. Currently only dealers in MA, ME, NH, RI, & VT are authorized to perform this campaign
Condition: Certain 05-08 MY Tacoma vehicles operated in specific cold climate areas with high road salt use, may exhibit more than normal corrosion to the frame. An authorized dealer will inspect the frame. If significant rust perforation is not found*, corrosion-resistant compounds (CRC) will be applied to key areas of the frame. If an authorized dealer confirms the frame has significant rust perforation*, an appropriate remedy will be provided.
*Based on Toyota's Criteria
The next day I'm at the local Toyota dealership and dropping the Toyota Tacoma off to under go the frame perforation test. I'm given a loaner for the day and head off to work. No hassle, easy enough.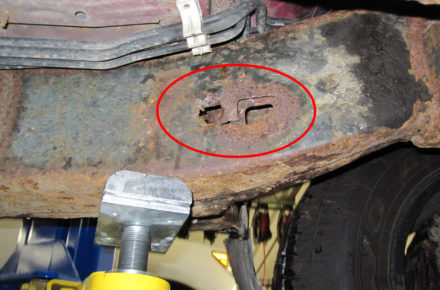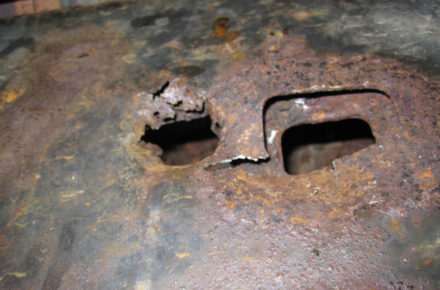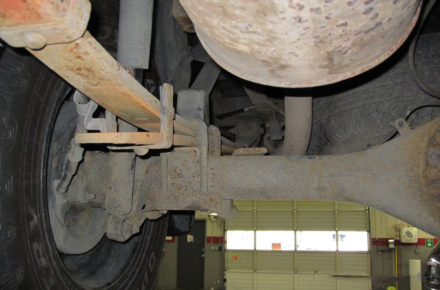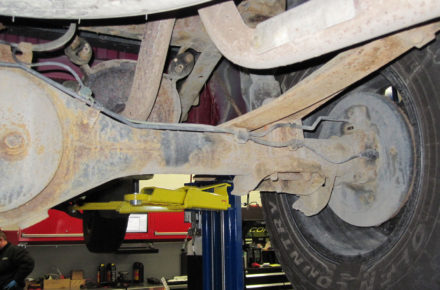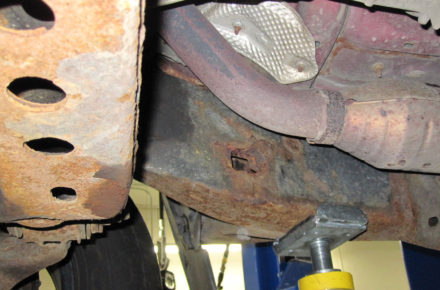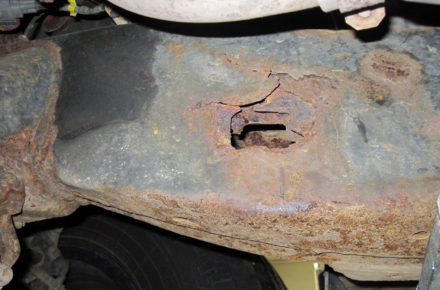 Later that day I get a call from the Service Rep and given the news: The truck has in fact failed the perforation test. I'm approved for the replacement.
Awesome. Brand new frame on the way.
The frame's ordered in April. Toyota is completing so many of these recalls that the frames are on back order.
The frame finally arrives in September.
I dropped the truck off, get a nice little Corolla to drive around and a few days later I get a call back from Service Rep.
He asks me if I can come down to the dealership.
Sure! Here's the truck, new frame, all done and ready to go I think.
NOPE.
I go to the dealership where he shows me my truck completely dismantled (see above). The cab is on a lift, the old frame and tires below it on the floor and other odds & ends in the general area.
The Service rep. points out they cannot proceed with the repair because there are parts that will/have been damaged and will need to be replaced.
Ok…
These are parts that aren't covered by the recall campaign.
The initial quote is $3000.
Fuck.
I go in for a recall and now I'm on the hook for well over $3K. I ask for a complete list of parts that they feel will need to be replaced.
It's the end of the work week and I'm left through the weekend thinking how I'm going to budget out $3,000 worth of repairs.
The final list comes in on Monday. It's now $5380.
Fuck x2.
I tell them that it's unacceptable, I won't pay.
The Service Rep agrees.
The rep and his manager take the case to Toyota Corporate.
Two weeks of back and forth and Toyota Corporate will not concede. I've repeated my position that I won't pay for any parts that are damaged as a result of the frame rebuild.
And now we're at an impasse.
This is still on-going. There's no resolution and the latest update is that I'll either have to agree to the charges or they return the Tacoma to me as-is. AS-IS? As in pieces?
---
TL;DR –
The frame in my 2005 Toyota Tacoma is subject to a Limited Service Campaign due to excessive rust that results in a frame that can be perforated.

The Toyota Tacoma is currently sitting at a Seattle area dealership in three separate pieces.

The rebuild isn't going forward in order for the mechanics to proceed, certain additional parts will need to be replaced, as they will or already have been damaged in the frame replacement.

Those parts aren't covered in the recall.

I've told the dealership that I'm not going to pay for any additional expense associated with the recall.

Service Rep agreed and was advocating on my behalf to Toyota Corporate.

After 2 weeks of back & forth, Toyota Corporate still will not agree to pay for any parts that aren't part of the frame recall "policy."

If don't agree to the additional expenses, Toyota will return the truck as it is currently – old, rusty frame and all.
---
So what's the end goal?
Well…for one, this website is for sale. I'm asking $5380.
The other – it's to let those who, like me, searched online for "Toyota Frame Recall" and found THE TOP RESULT a glowing review of the process and to present the other side of the story. It's not an easy thing and it's certainly not free.
Ultimately – I just want to get my truck back, the recall completed and not have to pay for any parts "damaged" in the process.
Also, I'd love to hear more experiences about this. The good and the bad. You can reach me at dan@tacomaproblems.com